We said last time we were in the Mission Beach area we wanted to stay a little longer and that is exactly what we did. There are four villages that are collectively known as Mission Beach:
South Mission Beach

Wongaling Beach

North Mission Beach

Bingil Bay
Cassowaries are often seen in the area, in the past we have seen some but alas not this time. The beaches are beautiful here, you could walk from Mission Beach to South Mission beach, ride your bike etc. Swimming nets are up at South Mission Beach and the Mission Beach town area when stingers are seen in the water, approx late October.
We stayed for 8 nights at the Bali Hai Caravan Park at Wongaling Beach, which is 4km south of Mission Beach. This beautiful mural painting is on the side of the office building.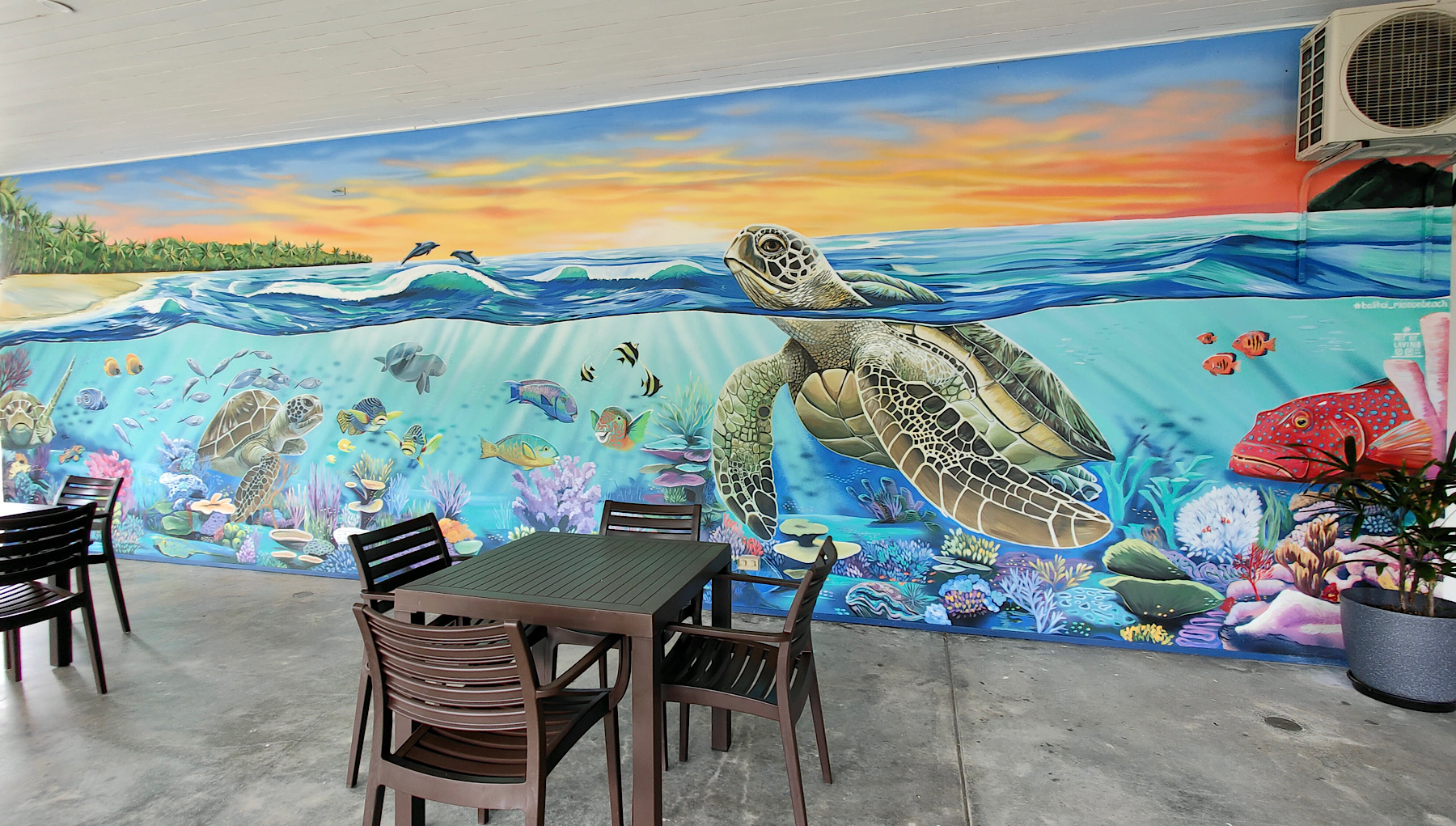 It is a small park with good sized powered and unpowered sites. Really great camp kitchen. Close to the only big supermarket in the area, Woolworths. It was nice and quiet at the time of year we were there, all the caravan parks were. It was closed for sometime and has only reopen this year. There are plans for more powered sites and a pool. Which of course is a plus and minus as it will draw more people to the park and most likely increase the price.
The managers are really lovely, very friendly and helpful and always up for a chat. They keep the park very well maintained. It's right opposite the beach.
We walked on the beach most days, dogs on leads and also did a few bike rides along the beach, including all the way to Mission Beach, low tied is best.
We went to Perry Harvey Jetty a few times to look for sea turtles. Much to our pleasure we saw quite a few coming to the surface briefly for air. Can't wait for when we get to go snorkelling with sea turtles one day.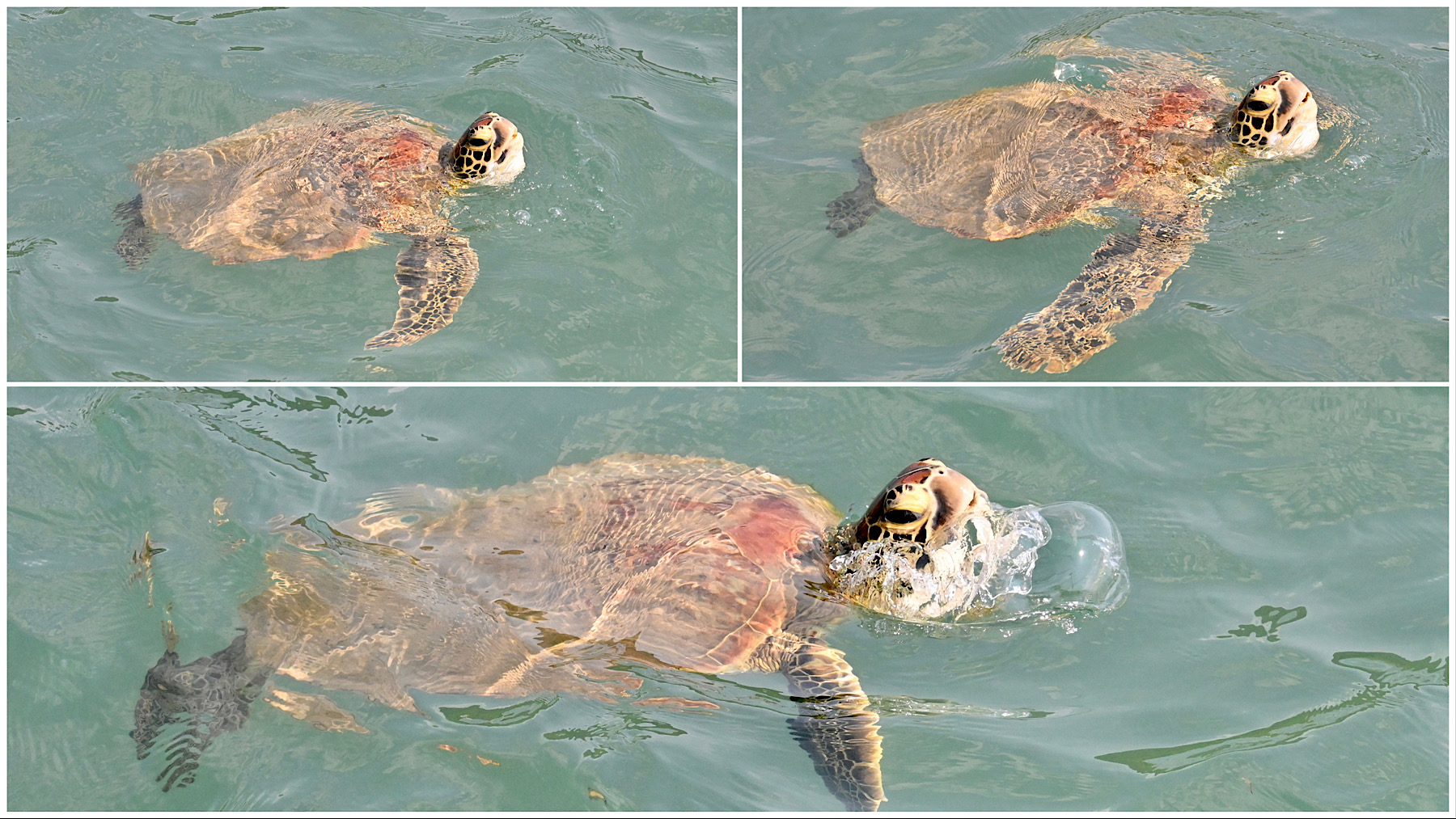 We walked some of the Kennedy walking track down in South Mission Beach to Lugger Bay 1.2km. Approximately half of the distance is on a board walk, the rest is following a dirt track over tree roots and rocks. At Lugger Bay the track goes down to the beach and you walk along the beach to continue the walk but have to be mindful of tides. This walk is dog friendly and well worth doing.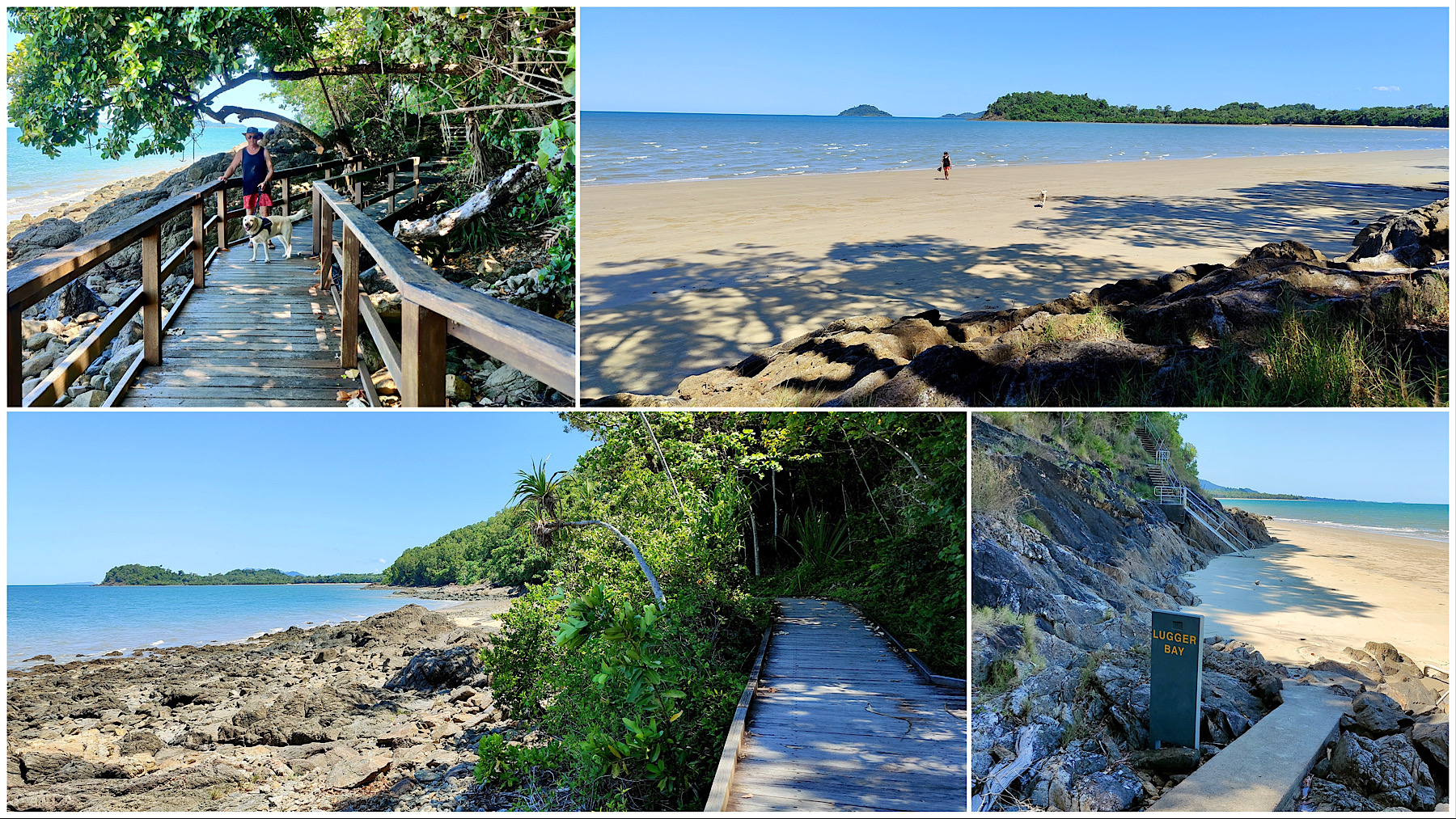 A lot of Mission beach is very dog friendly with most business putting out some bowls filled with water for dogs. For Kate's birthday we had Barra, chips and salad at the Chippery No 1 which was really yummy. Jess was able to sit by our table and a staff member even refreshed the water bowl for her.
We opted for a powered site as it was getting pretty warm and rather humid, so that aircon got a workout. We had rain for a couple of days, one with a bad storm that ripped our neighbours awning. Very soon the monsoon rains are going to start up this way and we have been told by several locals when they start they don't stop.
While we were here we also finally got the gas hot water checked and tested. This was due to a recall on Suburban Hot Water Gas Heaters, that affected all brands of caravan manufactures. Anyone with a Suburban Gas Hot Water system within a certain date range and serial numbers range had to get them tested due to possible Carbon Monoxide leakage. A free Carbon Monoxide monitor is also installed into each van that is tested. Happy to say ours passed.