21/6/14 – We had decided we needed to get up early and be on the road around 7am. We just hadn't said which 7am. Qld, NT which is half an hour behind Qld or WA which is 2 hours behind Qld. We are kind of between time zones at the moment. It was still dark when we got up but it was light enough to drive by the time we were ready to go.
There are quite a few burnt out car wrecks along the Tanami, we have seen this once before on the Finke Road. We thought it would be a good idea to check a few of the wrecks for spare wheel studs. Luck finally went our way, the second one we checked was a burnt out Holden Rodeo, an older version of our Ute. The studs were rusted on and took a bit of gentle bashing to get off but we had 6 studs as an insurance policy if we broke any more.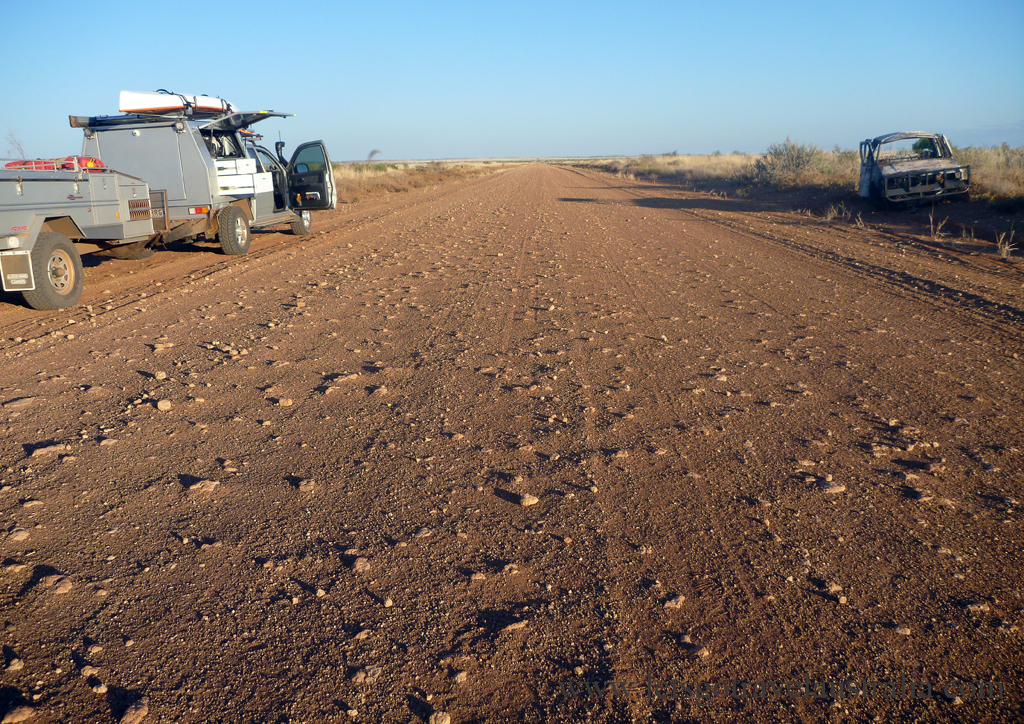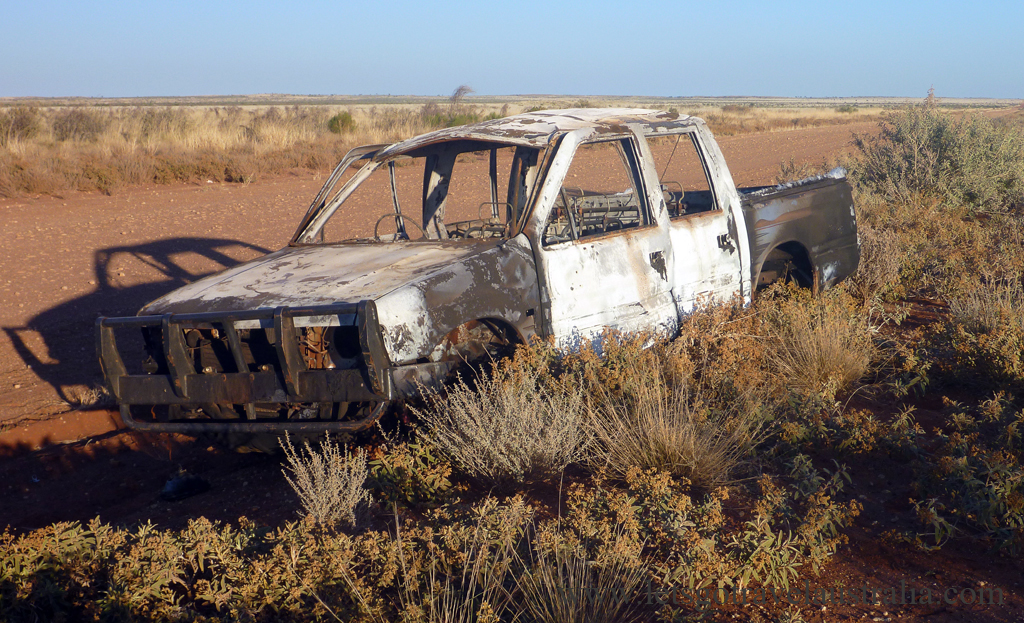 We had heard over a CB that the WA side of the Tanami was pretty ordinary and they weren't half wrong. Some of the corrugations were pretty savage particularly in the state our Ute was in, we could do without them. We continued to check the wheels every 20kms.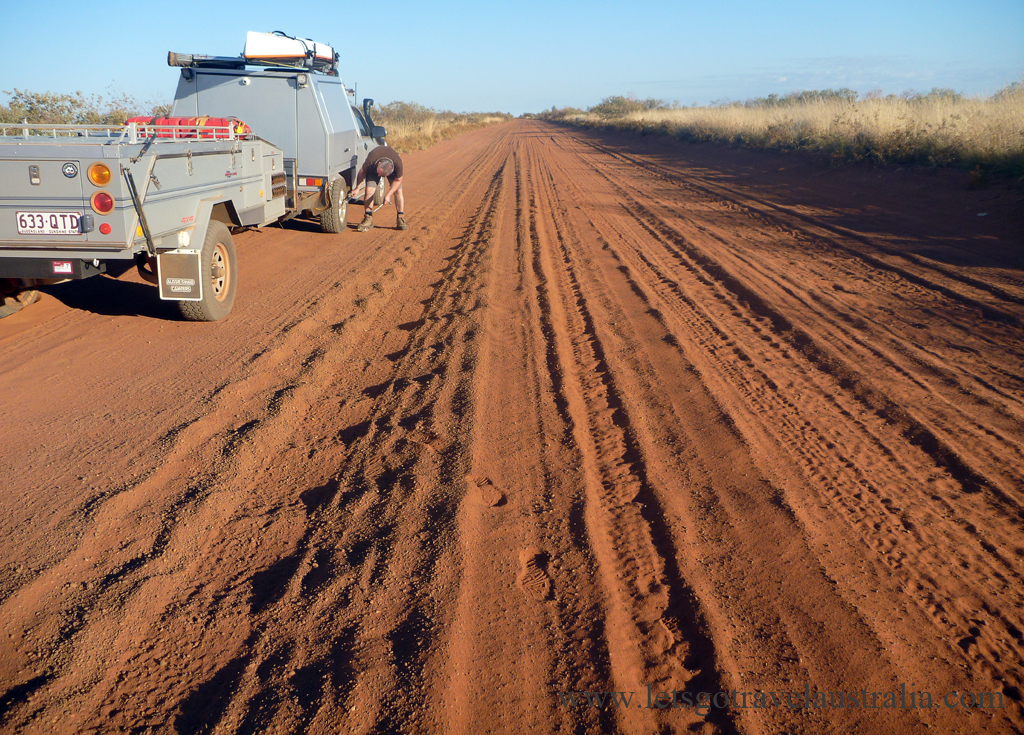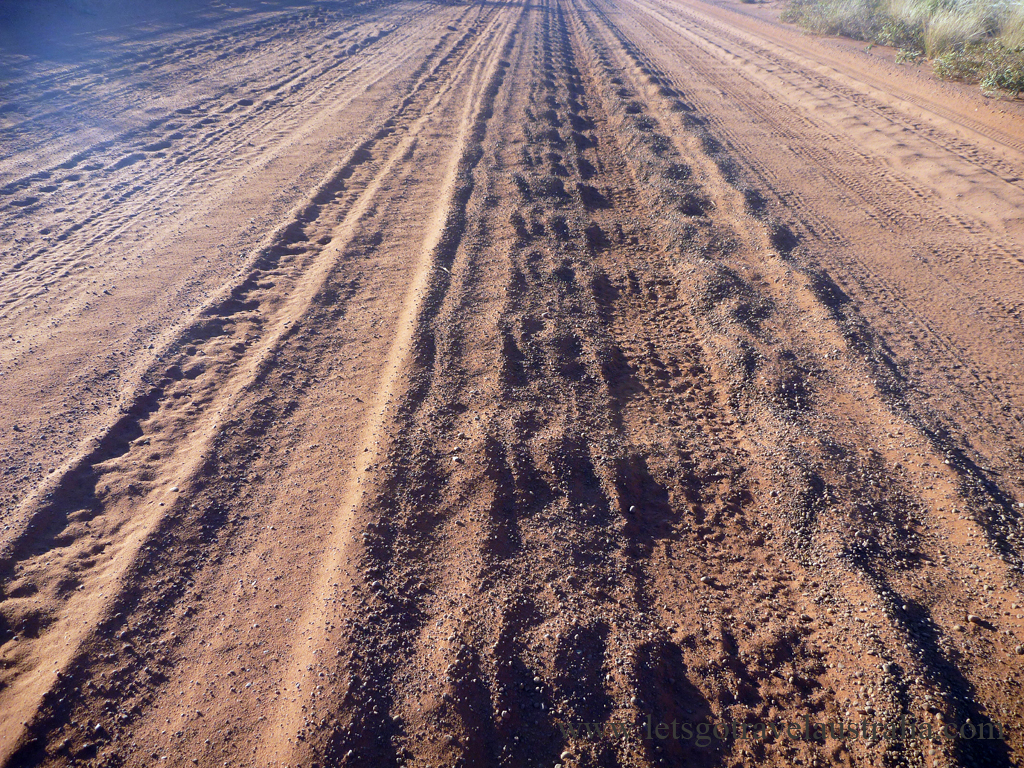 We had to forgo going into Wolfe Creek this time, we had more pressing priorities. Everything was going well so the last 120kms Chris decided to push the checks out to every 30kms.
The quarantine bin is right at the end of the dirt on the Tanami just before the turnoff on bitumen.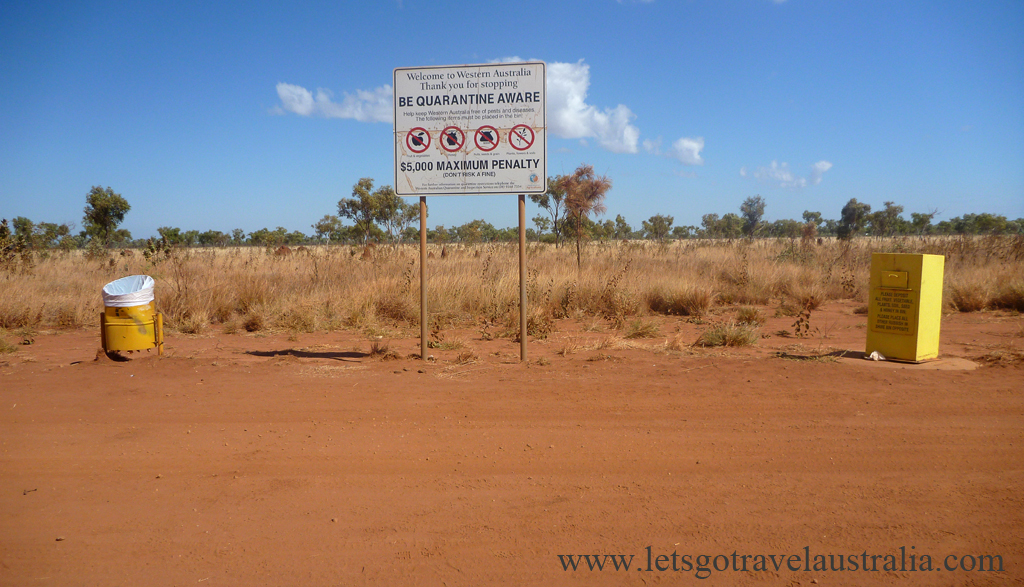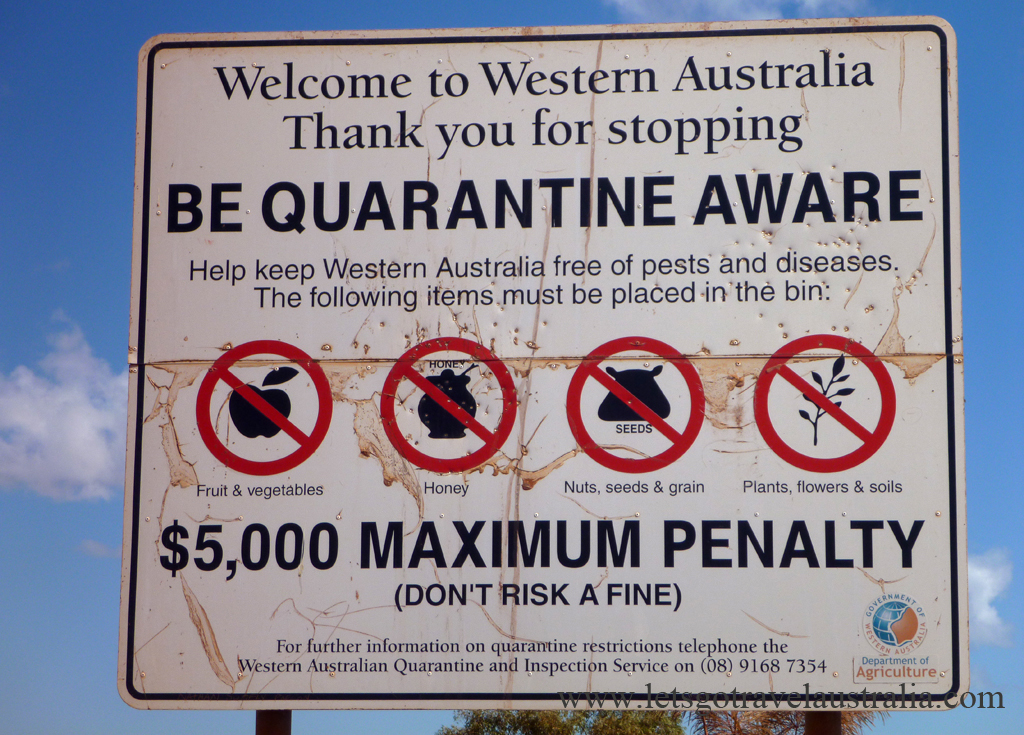 Once in Halls Creek we called into the servo and got some brake fluid, this made a massive difference to the brakes but they might still need bleeding. They told us to call into the local Toyota place for the studs. Chris picked up 2 sets of studs and nuts, they weren't quite right but hoped they would do the job, turned out where they seat is slightly too long. We were told the IGA would hopefully sell a water drum, which it did. We then proceeded to fine a place with shade to have lunch and work on the Ute. After a while we were drawing too much local attention with some of the local kids coming over and seeing what we were doing. One sat down next to Chris having a chat when he started touching Chris's tools. After being told to leave it alone he didn't so I had to tell him to move on. Another kid came over and we had to tell him the same thing. Way to many locals walking past, we didn't feel comfortable or safe so we moved ourselves out the front of the police station. Funny enough none of them came and checked if we were ok, other travellers on the road that saw us stranded did.
Chris fixed the ok back wheel first using the new studs but when he went to fix the one we had lost he found the new studs were not going to work as they wouldn't go in properly due to the brake drum. So guess what, the ones we took from the burnt out Holden Rodeo ended up saving the day as Chris used them. If we come across a Toyota somewhere that has broken wheel struts we will be able to help them out. The front one is getting it's original studs put back in, which will take a while. All going well, we should be back on the road in a few more hours and heading towards a rest stop near the Bungles.