Well we have had our Snowy for over 12 months now, even though some of those months have been when we have all been in lock down due to COVID-19. But we did give it a good run in 2019 so thought it was time to give our opinion of the Snowy River SR19.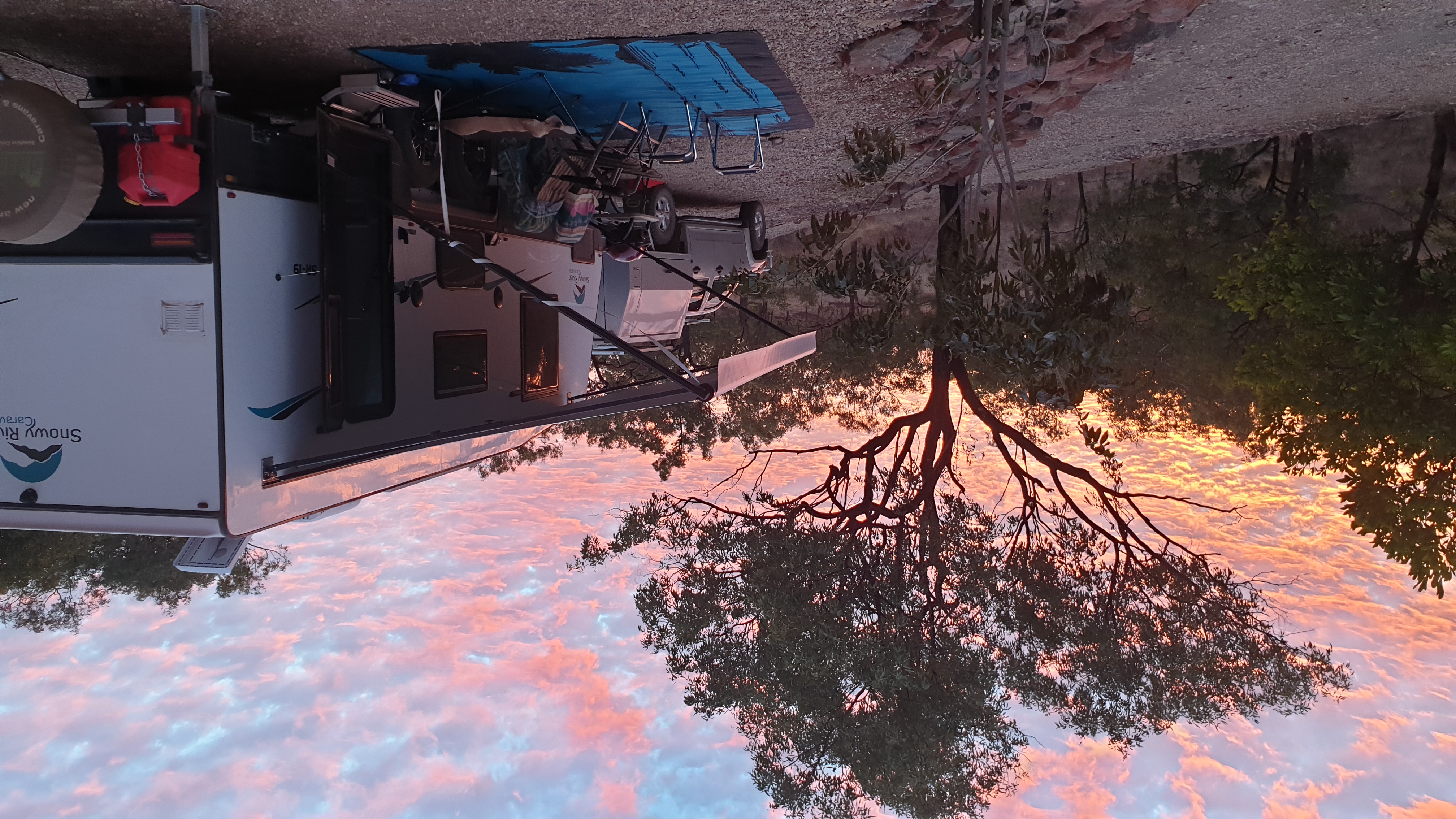 First up this is our opinion based on our actual van and our experience with it and with any dealings with Snowy River. We have not been influenced in any way by any other party.
You can read this post to see photos and upgrades we did at the time of purchase. Here are the modifications we have done to the van since owning it. You can read in more detail why we decided to buy a Snowy River Caravan. 
Briefly though….. We wanted a composite van with aluminium frame. A fully Australia made van was well out of our price range. Snowy River Caravans are at a price we could afford and we felt was great value for money.
So lets get down to it. We have to say overall we have been very happy with our Snowy. We fortunately have had very little issues with it, a few minor ones that we have chosen to fix ourselves because we are handy like that and it was not worth the effort in taking it back to the dealer for a minor issues.
We like the modern open interior, easy clean walls, cupboards, clean lines. The shiny cupboard doors do show finger prints so if matt laminate is an option it is something we would consider especially in a family van.
There is plenty of storage in all the cupboards especially if you add shelves like we have.  The cupboards near the entry are awesome and you could fill them several times over with different ideas. We have even heard of people using this for their pantry.
We love having a seperate shower and toilet and having a washing machine on board.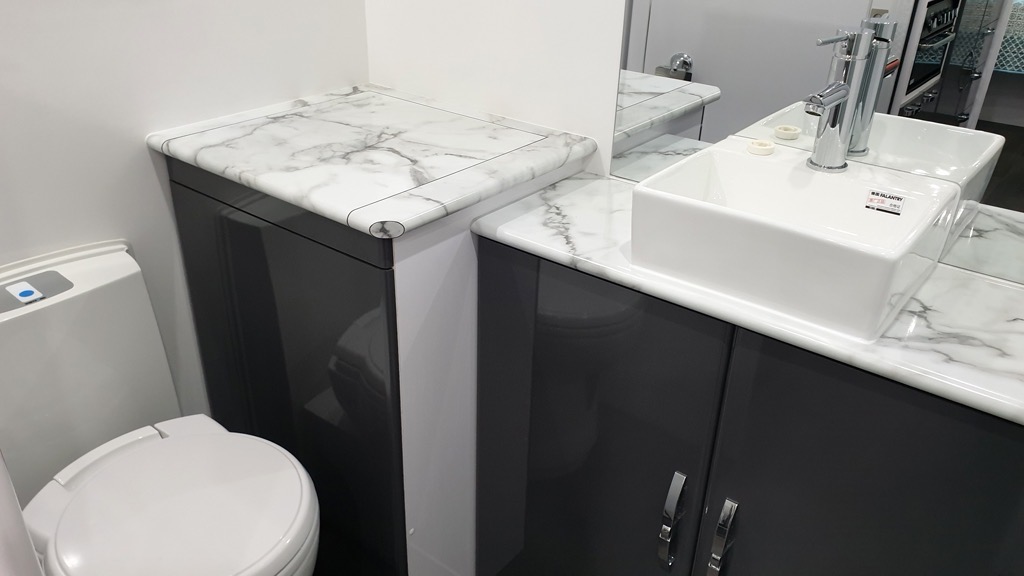 We are very happy with the upgrades we did, especially taking out the big pantry to allow for extra bench space, no front boot that allowed the bed to be pushed up so we could fit a full size standard queen bed. The upgraded door and reversing the door opening is fantastic, combined with the longer awning.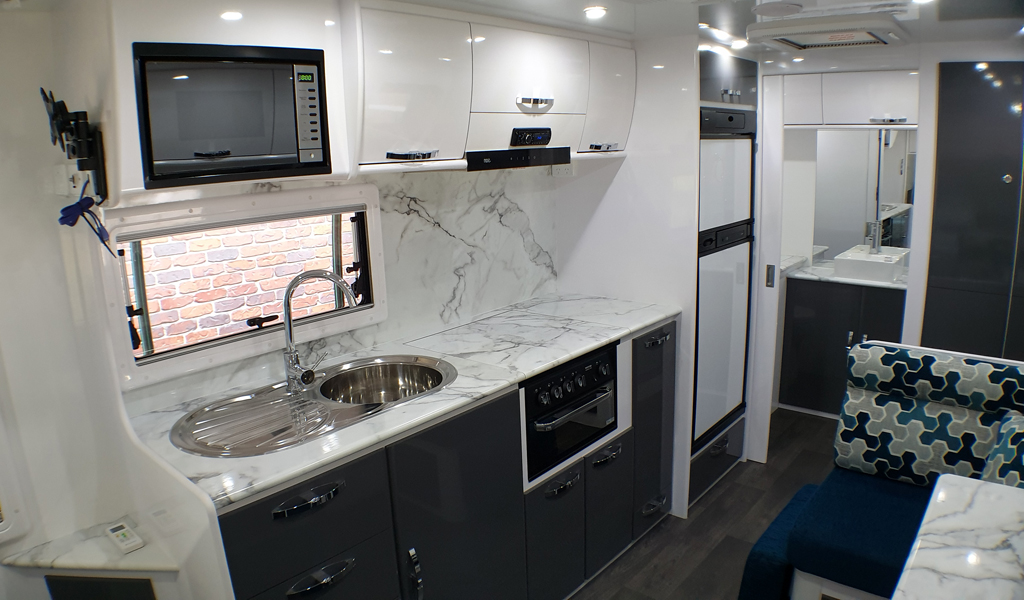 We were fairly impressed with the build method, being composite panels with an inbuilt aluminium frame and this was one of the reasons for investigating the brand. This is especially so after having previous caravans that developed wood rot so a non wooden frame was a pre-requisite. It turns out that this has made it a very strong van and Chris has been able to carefully walk on the roof, something unthinkable on many vans. Apart from the main chassis rails, the rest of the subfloor initially seems light but the floor itself, also being composite construction gives the combined floor plenty of strength with no feeling of give underfoot.
The suspension is the simple but effective Alko rubber torsion independent suspension. Not much that can break there. We elected to have shock absorbers fitted as we anticipated some dirt roads and of course the rough Queensland country roads.
Internally, the built in furniture is reasonably strong and has very clean lines although some of the door hinges have come a little loose and needed tightening. These screws could easily strip so it may be necessary to put larger ones in at some future date.
Towing has been excellent with one exception. On initial pick-up, the water tanks were all full, we had no personal gear and there was no mattress as we were supplying our own. This caused a very light towball weight, probably only 50kg or so, because the bed is at the front and two of the three water tanks are behind the wheels. This made initial towing feel just a little twitchy, nothing serious but just noticeable. We emptied the water tanks about half way home and that made a huge difference. Since then, with it properly loaded, full or empty water tanks and a decent towball weight over 200kg it tows great with no load weight distribution hitch over many different surfaces from highway to dirt road. It always feels stable with no bad habits evident. I should point out that we do have a Dexter sway control fitted but we've never felt it activate.
We have gone on several dirt roads and found the van to handle the dirt very well. A small amount of dust can come in through the door vent, we put thin foam over this only when travelling on dirt roads. Also as expected dust can come in through fridge and other vents. On one long stretch of road we did cover these up. Our plan is to setup a positive pressure setup in the van to stop any dust.
So what about any ssues we have had. All very minor we have to say. The small pull out pantry broke, so we changed the way the door opened and added our own drawers which work much better for us.
We had the timber back on one of the seats come apart but it was easily fixed with some brackets, better than a new one.
The sink did not drain very well, taking a very long time to drain. Chris replaced the existing corrugated drain hose which went up and down like the Loch Ness monster, with pvc pipe when he was doing the grey water tank, now you have to be careful it doesn't take you finger off if you stick it in the hole 😁🤣
In the microwave cabinet, the shelf dropped a bit below the facia. We believe others have had this issue as well. The way the microwave was held in place was something we were never happy with and checked other caravans at shows to see how other manufacturers did it, and well they were all the same expect for the very off roads vans. We weren't keen on the microwave that came with the van so we replaced it, Chris secured it much stronger by screwing in from the bottom and fixed the dropped shelf, problem solved. (See our modifications for more details) Photo shows the fix Chris did to stop the shelf from dropping again.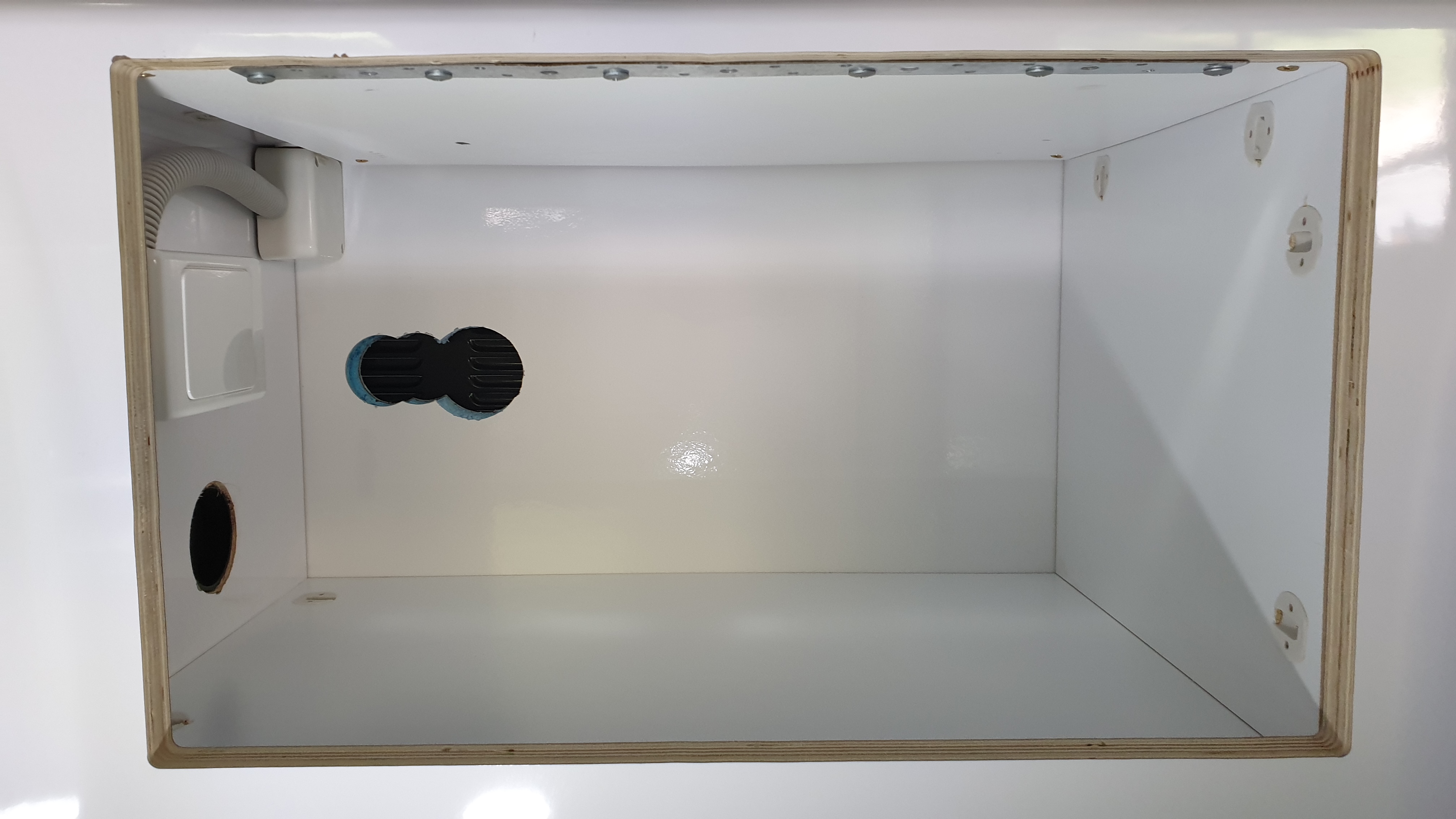 The laminate splash back has lifted slightly, not bad enough for us to make a warranty claim and have them do more damage ripping it off. We have heard that is was an issue as the wrong glue was used but believe this is now sorted.
One of the stays that holds the upper cupboards up, failed and we had Snowy send up a few spares so we could fix it ourselves.
One of the window frames was a bit warped in one spot, so didn't seal properly so that allowed a small amount of dust in. Chris also fixed that.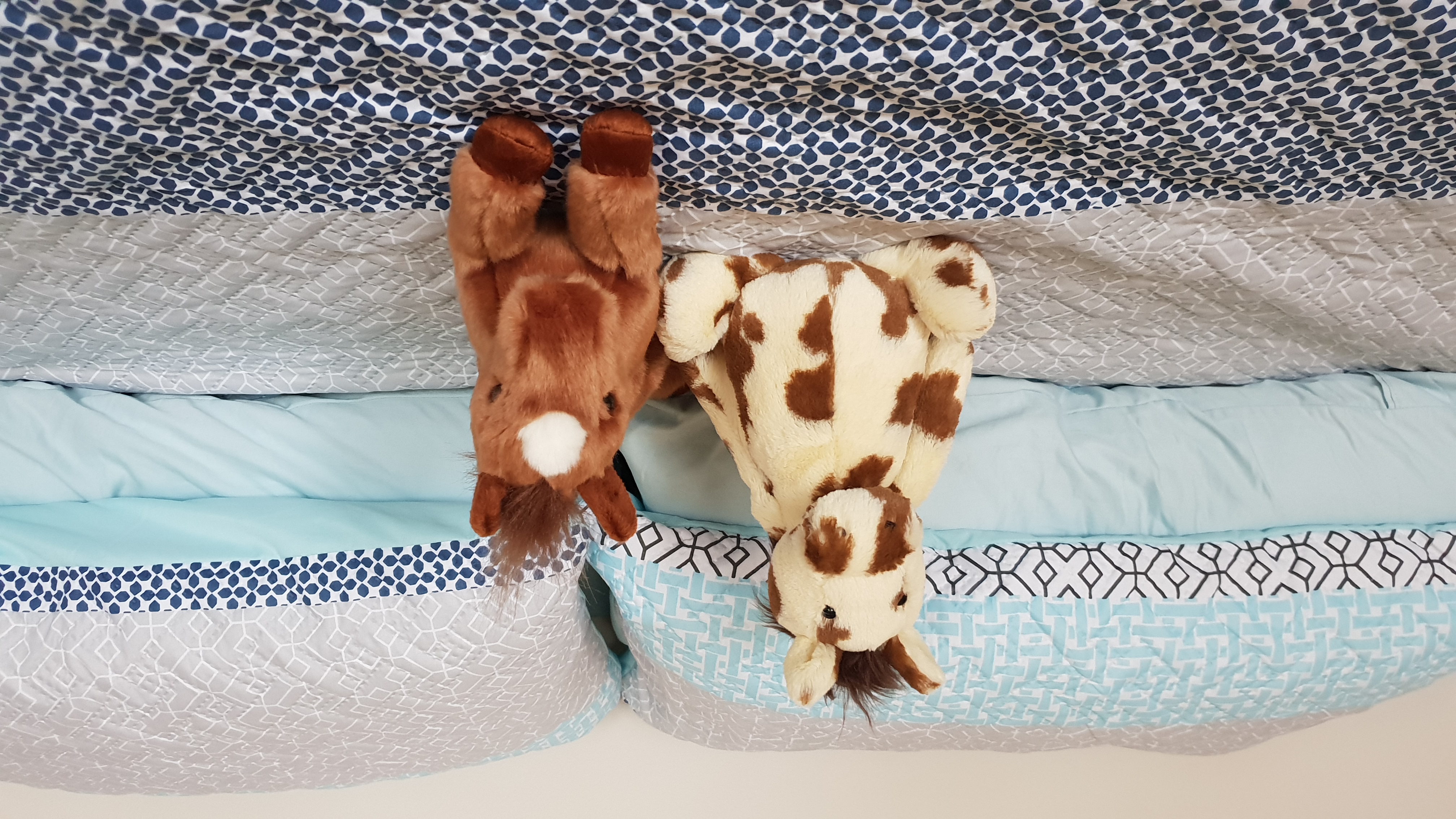 That's it, some very minor issues. We do know of others who have had a few more issues than we have had but from what we have seen on the Facebook group any warranty issues are dealt with very promptly and efficiently by the warranty personal.
What we don't like, again very minor. The foam in the seats was only comfortable for like one weekend away, so we replaced that with some high density foam from Clark Rubber, much better. We had never had cafe seating before so decided to give it ago with flip up foot rests. Really the most comfy would be to take the seating out and put small recliners in there which we may do down the track but you do lose all the storage under the seats.
In hindsight we should have spent the extra money and gone for leather on the seats over fabric but hey we only had so much money to go around. Due to us having a Labrador who likes to lean we found the flip out fabric foot rests would get covered in dog hair, so Kate replaced the fabric with vinyl and that has worked great.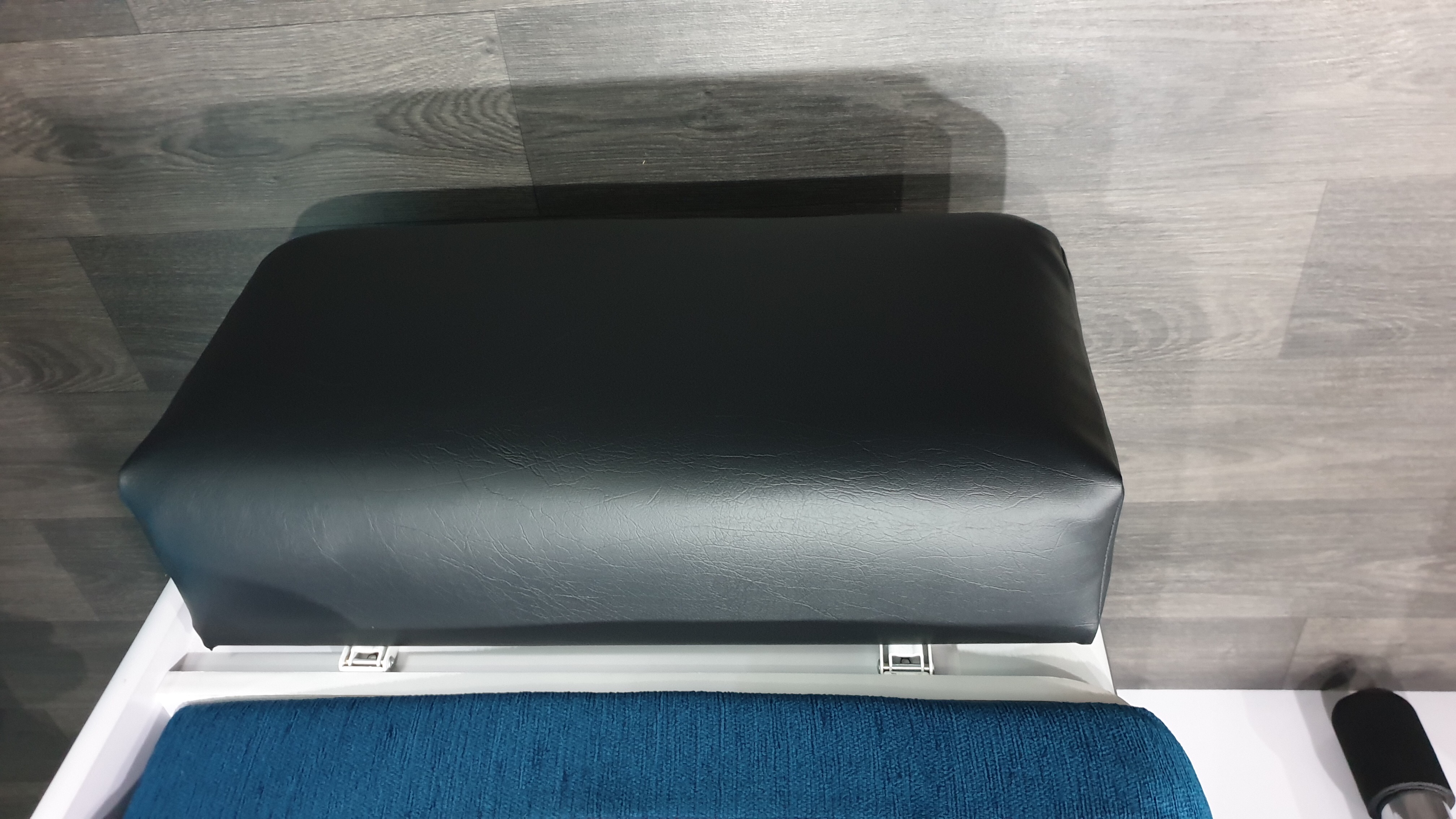 The shower doesn't drain as well as it could, it's like there is not enough or the right angle of slope. When setting up and levelling the van we compensate very slightly for this and then it drains.
Personally we think it would be better to have a shorter mirror that didn't come all the way to the bowl and get splash back when using the tap. We fixed this by using stick on tiles which looks great and are very easy to clean.
The TV, well basically it sucks. Others have also complained about the TV as well. Ours turns off and restarts if the aircon is on and it kicks in. We have temporarily replaced it with an old TV we had and it is doing much better. It would have been nice to be able to fit a larger TV.
Again that's it, a very short issues and don't like list. Things like no shelves in cupboards did not bother us as we preferred to put them in ourselves in the spots and heights we wanted. You can have this done by Snowy as an extra option. In fact there are many options and upgrades Snowy can do for you but of course all at a cost. Other manufacturers may include some of those options as standard but they also cost a lot more than a Snowy River Caravan. One cupboard we put a vertical shelf in for the much needed (Chris) coffee maker.
As stated we have heard and know of Snowy River owners who have had more issues than we have had. It can be easy to put it down to being an imported van from China but from all the complaints and issues we have read most of the problems are actually from the bits that are done in Australia by Australia workers. I guess quality control and consistency is possibly an issue.
Also from what we have seen over the years looking at many vans at caravan shows all manufacturers do things pretty much the same way using the same parts. So all caravans from any manufacturer regardless of price will have issues from time to time. How the manufacturer deals with those issues and warranty claims is the thing to look for.
Screws, hinges, doors and other parts can loosen when the van is being used in a normal manner travelling on our roads and highways especially any dirt roads. That is normal and part of maintaining your van.
Snowy River from our observations and experience are outstanding on dealing with any issues owners may have had especially in the warranty period but even outside that many have said the warranty personal have gone out of their way to help solve any problems.
So there you go the Good, the Bad and the Ugly. Not much bad and ugly though. If you are considering buying any Snowy River Caravan we highly recommend you join the Snowy River Caravan Owners FaceBook group, even if you normally don't want a bar of facebook it is worth joining just to join the group. You will get to read posts from actual owners sharing their experience, issues, problems and good points. Hear about upgrades, modifications people have done, see problem solved, questions answered, Things to look out for, ideas to upgrade and change. It's a great friendly supportive group, all questions are welcomed and encouraged. It's like getting over hundreds of reviews in one spot, warts and all.
Now to just get back out there and explore some more wonderful places in our Snowy River SR19 Caravan. 😁 Happy travels and stay safe.