The gem fields in Qld again is another area we have driven by many times promising to call in one day. Well one day finally came.
We booked into 3 nights at Gemini Caravan Park at $20 a night for power and water is extremely good value. Also being away from the main areas it was very quiet park. The owners are extremely friendly and love dogs. 4.30pm every day there is a campfire where you can chat to locals and other guests. The only thing we didn't like was drinking the water. So suggest you come with good drinking water in your tanks or bring some bottled water.
Like many mining towns that mine precious stones you see some quirky, weird and wonderful things. And meet some very interesting locals who always have a few tales to tell of their precious finds.
We did the Miners Heritage Walk-In Mine Tour. Always find these underground mines and stories fascinating. The old timers certainly did things tough. Some were rewarded with some precious stones for their hard work. The fever seems to grab people hoping for that one life changing find, for most it never comes. We were told people do still find some very valuable gems but for most it's not enough to make a living off. The tour was very good and interesting and worth doing. You can also do some fossicking buying a bag of wash and shown how to fossick. We choose to do this at a different destination and spread our money to other business.
The place we had heard great reports about and even the locals recommend was Miners Cottage at Rubyvale. Unfortunately it was closed due to Covid at the time we went there. So we went to Gemfields Fossicking Park at Sapphire.
We had an absolute ball, we were shown how to sieve and wash our bucket of wash and what to look for to find our fortune 😂. Well we didn't find that but we did find a small amount that we were very happy with to give to one of our grandkids and we had loads of fun in the process.
You can join a tag along tour and be taken to the gem fields to dig up your own sapphires. Something to do next time.
We took a drive up to Policeman's Knob. Not very well sign posted and we weren't a 100% we were on the right track. Once there is a short clamber over some rocks to get to the top. Well worth it for the views and heaps of Black-footed Rock Wallabies. So make sure you take your zoom lens, which I forgot.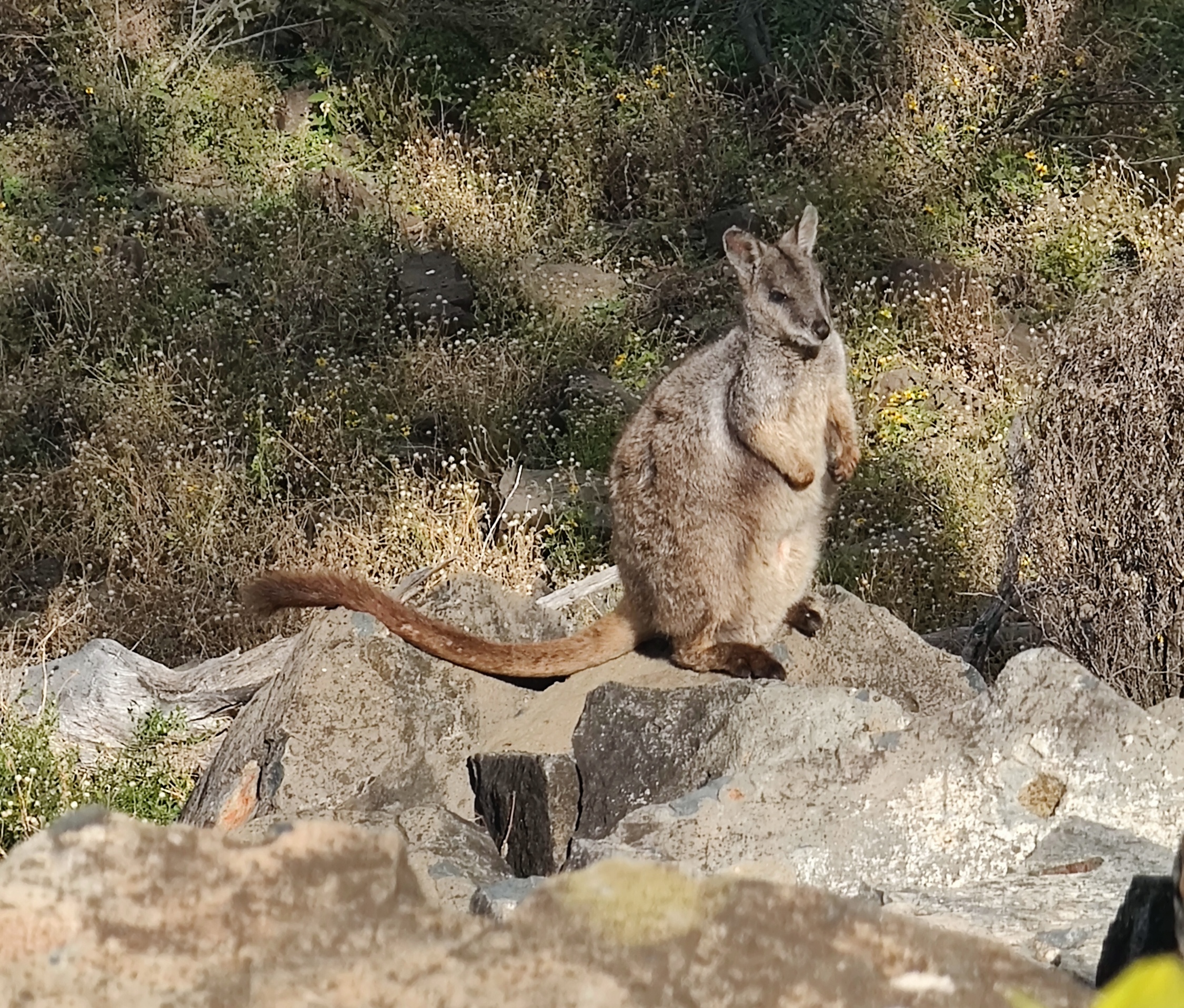 A bit further along the main dirt road we came to one of the mining areas. You can buy a fossicking permit and camp in these areas but make sure you do not go onto other miners claims. Big signs up about not going onto them. Including a thong tree with a warning.
Few interesting facts we learnt about sapphires. Many of us think of sapphires as only being blue. There are many different colours of sapphires found in this area, including blue, yellow, greens, black star, parti (part 1 colour part another)
In August 1985 the sapphire was named the official state gem of Queensland.
The gem fields in this area is one of the largest sapphire bearing areas in the world. Covers the towns of Anakie, Sapphire, Rubyvale and The Willows.