Mitchell is known for the Great Artesian Spa, lovely hot pools but there is another side to Mitchell some people might not know.
The infamous Kenniff brothers, bushrangers who liked other people's property, especially cattle and horses. They avoided capture for sometime due to being elusive and a general lack of evidence.
In March 1902 warrants were issued for the arrests of Jimmy and Patrick Kenniff. Constable George Doyle was tasked with catching the Kenniff gang. One day he set out on patrol with Sam Johnson a police tracker and a manager of several stations Albert Dahlke.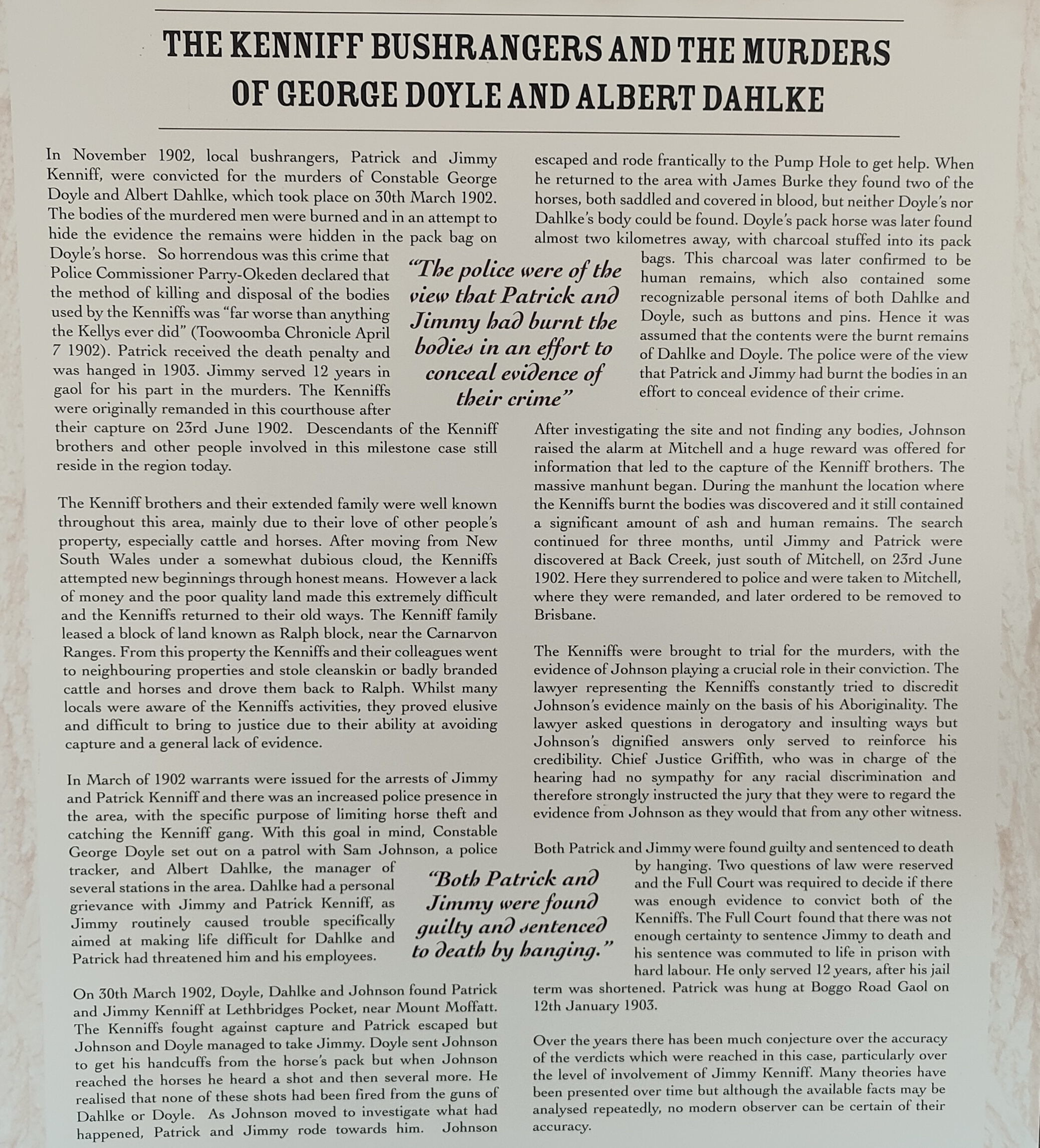 The constable and his companions did catch up with the Kenniff brothers but before they could be handcuffed they killed both Constable Doyle and the station manager Albert Dahlke, Sam Johnson was able to escape and raise the alarm.
Without going into the gruesome details of the murders, on 23rd June 1902 the Kenniff brothers were eventually captured and due to evidence found on them and the testimony of Sam Johnson the Kenniff brothers were found guilty of the murders.
Only Patrick was put to death due to not enough certainty to sentence Jimmy to death he was commuted to life in prison with hard labour but only served 12 years.
We were given the code to enter the Kenniff courthouse which is filled with information on the arrests of the Kenniff brothers and details of the murders they were guilty of and the court case. Worth stopping in to read the information if not a bit gruesome.
7km out of Mitchell on the road to St George at Arrest Creek where it was said the police troopers and trackers caught up with the Kenniff brothers there is a sculpture in recognition of that arrest.
We stayed at Neil Turner Weir, very close to town, a large free camping area at the weir with toilets, bins, drinking water taps, table and chairs. There is a donation box. It is extremely popular with lots of other travellers. But yet non of them are close to each other and all very quiet. We have stayed here once before for a night. It was great to base ourselves here and checkout more of Mitchell.
It has a chemist, supermarket, servo, cafe and other shops and of course the Great Artesian Spa. We did have a bit of a false start with a scheduled power outage for maintenance leaving half the town without power for the day including the hot pools. Lucky we are staying for a few days so just went back the next day. Cost is $8 per adult. You can get 2 days or longer passes.
Hot pools were great about 34 degrees at the start and warmed up a bit over the time we were there. Awesome to soak and warm us all the way through after a very frosty chilly morning. There is also a cafe onsite which we bought lunch at and was very nice.
Morven
The plan was to stay a night at Morven at the Recreation Reserve. And if we wanted power it would have been a no brainer at only $10 a night power and water, hot showers and toilets. Also has a dump point. But the unpowered area was dusty and didn't inspire us at all. So we moved on. It is a very popular spot thought so get in early if you want power. You can walk into town from there with several interesting things to see and several shops to support.