3/7/14 – It was a cold night and we had dew in the morning. We weren't expecting the nights to be quite this cold. We had a sleep in, yeah 6am. We had a leisurely morning enjoying the peace of the camping area, you would swear there was no one else camped there it is so quiet.
After we packed up we drive down to the day use area and had a walk to the falls and swimming hole. Wow what a lovely spot, water is so clear with a deep swimming hole even had a ladder to get it. Chris had a swim in the cool water and said it was really refreshing.
You have to walk down stream along some rocks, some of them very smooth and red to get to the waterfall, it's only a short walk. This river in flood would be one hell of a site. The Mitchell Plateau is one of the last areas to open up after the wet season due to this river.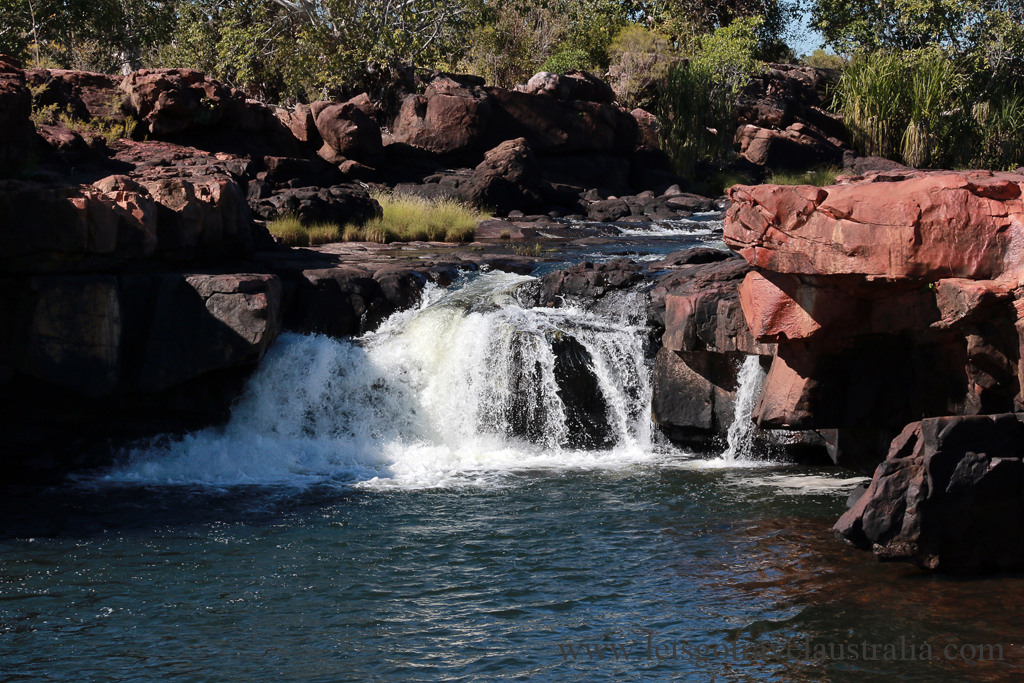 We then headed back towards the main road, just before the King Edward River crossing is a turn to the right that leads to some rock art. We stopped and had morning tea before doing the short walk to the rock art. It was a popular stopping spot with a tour bus and many other vehicles pulling in.
Crikey the Kalumburu road has some damn big corrugations doesn't matter what speed you do them at it shakes man and vehicle around. It's worst at the Mitchell Plateau end. Like all dirt roads it has it's good bits. But you still can't get up too much speed because then you can't see the big holes or rocks on the road.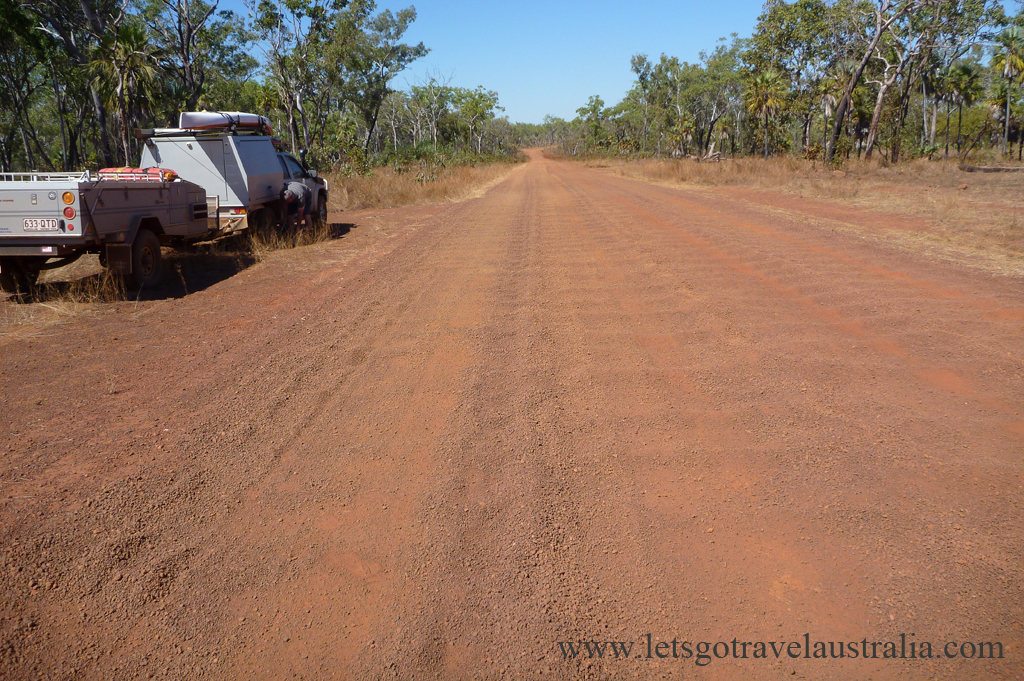 Life is never dull when traveling on very corrugated rough roads. We stopped again at Drysdale River for lunch, then Chris had to check the back wheel that had come off earlier as we were hearing some noises coming from the wheel. As he pulled the brake drum apart all the bits inside that make up the brakes fell out, opps. Of course this was obviously caused from the original damage when the wheel came off but we don't know what made it fall apart now. So basically the rear right brake is stuffed and needs repairs as soon as we can. Chris tried to plug the brake line so he didn't have to crimp the brake it but in the end he had too. We used the brake fluid we had but need some more, which we will pick up at Mt Barnett Roadhouse. While Chris was fixing that I took the opportunity to take advantage of the river water and wiped things down and did some washing, overlooking the river, under the shade of the trees, you know silver lining and all that.
Eventually we got under way again and came across a Landcrusier that had lost its rear left wheel, 6 studs broken. They were lucky in that they were 200m from the Drysdale Station so could easily get help but unlucky as they had done some panel damage and pushed the axle into the diff and blew up the diff. It was being picked up by a tow truck tomorrow. They weren't towing, they certainly weren't overloaded and they had a Landcruiser considered to be one of the toughest 4wd, goes to show it can happen to any vehicle.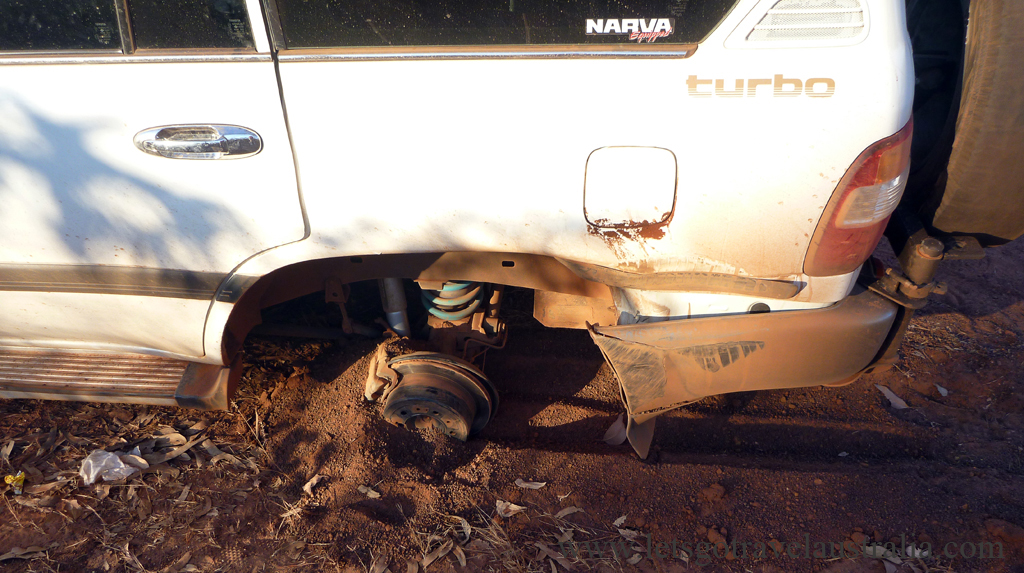 We pulled in for the night at a free camping area right next to the Gibb River, we saw it due to the fires from several other campers, beaut spot.