We were up at 6am again for a sunrise but we found it hard to find a good spot with reflections of the dead looking trees over Lake Wetherill, we will keep our eyes open for a more suitable spot. I did get one quick shot before the sunrise went as did Chris.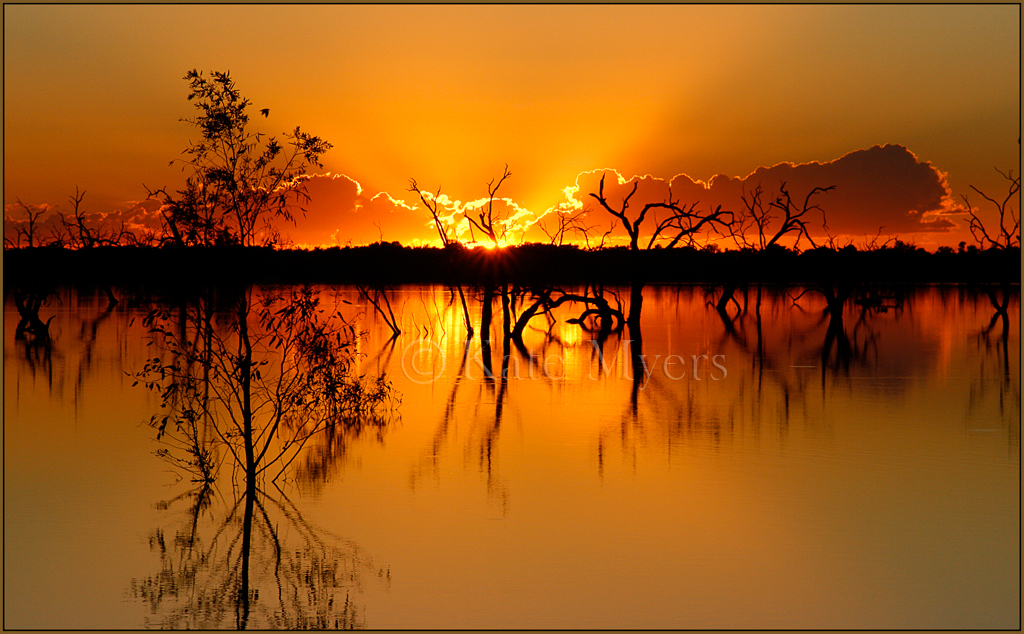 After brekkie we put the Kayak on the Darling River and went for a paddle. It's hard getting into it as the water is down so the banks are a bit high. Half way on our journey we swapped spots as I was in the back in the Kayak and we weren't going in a straight line very well, I was taking the scenic route. It was better with Chris in the back as he had more control and could put more power into it. Better for me in the front too as it's not as hard work and I can just get paddled along, hee hee, I get to see more too. We are not doing to bad for only our 2nd time in it. It was very nice, we got to paddle past people's camp sites and have a chat to some. We wore our rock wet suit shoes and they were fantastic, nothing seems to stick to them and no dusty or muddy feet either.
The area we are camped in is huge, with plenty of gum trees for shade. The ground is just dirt and is very dusty and turns to mud if it gets wet. There are quite a few water taps spread around the camp area, one not far from us that we think the hoses will reach. The water is crystal clear so we assume drinkable as there are no signs saying otherwise. We plan to fill the tanks before we leave and do some washing while we are here. There is Telstra coverage here too. It's a beaut spot and it would be lovely to sit out under the awning or under a gum tree in the shade but the flies drive you NUTS and all this for free.
We can manage quite well without the extra power we have this trip but it is so nice to have it and the genie to top everything up and run the micro and washer later. We have the fan running, fridge is running on power and the batteries are being topped up, very cool and the yoghurt maker running off the inverter.
After lunch we went into the town of Menindee, along the other dirt road. It was slightly better than where we came in but not much and over all is a longer way back to the Hill. Menindee is a small and appears to be a dying town especially when there is no water around. We called in at the local info centre and had a chat. Lake Pamamaroo had water in 5 months ago but they let it out to run it out down into the Murray. Lake Menindee hasn't had water in it for 10 yrs and if it did they would release it into the Murray, a small amount of water is release from Lake Wetherill everyday to head down stream.
We had an early tea to see if we could get a sunset over Lake Menindee, there is an area on the map called Sunset Strip so we thought sunset. Well it's actually an estate right on the edge of Lake Menindee, all those houses would of had prime views of this massive lake and now it's like an open flat plain with dead trees and some bushes with prickles as the under growth. Would have been an awesome site had the lake had water in it. We raced back to the lookout area but the sunset was a fizzer. We came back to Lake Pamamaroo and found the spot for tomorrow night.
We get to have a sleep in tomorrow, yeah.